OUR MATERIALS
FOR THE FIRST TIME EVER INTRODUCING CARBON NEGATIVE MATERIAL IN INDIA.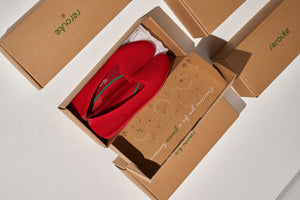 At reroute, we're not here to sugarcoat facts, we've reinvented how shoes are made while reducing our carbon footprint using natural and renewable products. 
By diverting waste and using material technology to recreate renewals, we're reducing waste in landfills and regrets from overconsumption. We've designed our products to maximize comfort and durability for everyday fun!  
Sugarcane EVA (I'm Green EVA) 
We are here to sugar coat your feet's, literally sugarcoating your feet with our 1st ever CARBON NEGATIVE material and 100% recyclable in India. The production of the material is said to result in a net reduction in greenhouse gas emissions, as sugarcane plants absorb carbon dioxide from the atmosphere as they grow. For every kilogram of "I'm Green" produced, the equivalent of 3.09 kilograms of carbon dioxide is captured and removed from the atmosphere.
Second-Life Plastic Bottles 
We divert the single use plastic bottles ending up in land fill and transform to proprietary threat, which we then knit into durable, washable, and sustainable shoes. This 3D Knits are light weight, breathable, and moisture-wicking.   
How we calculate number of single use plastic bottles transformed to proprietary thread? Learn more! 
Premium Merino Wool 
Renewable! Natural! Sustainable! Energy Efficient! Less carbon footprint! Antimicrobial! Say no more. This merino wool is combined to make our propitiatory threads which are then transformed to provide unparalleled comfort for everyday use with its natural antibacterial properties and exceptionally plush feel. Breathable and enjoyable - no matter how your day is going.